The holidays can be so overwhelming and sometimes decorating can take a back seat to all the planning, buying gifts, and cooking. That being said I have put together a guide for you to follow when it comes to setting your dining area to create a special intimate moment with your loved ones for the holidays!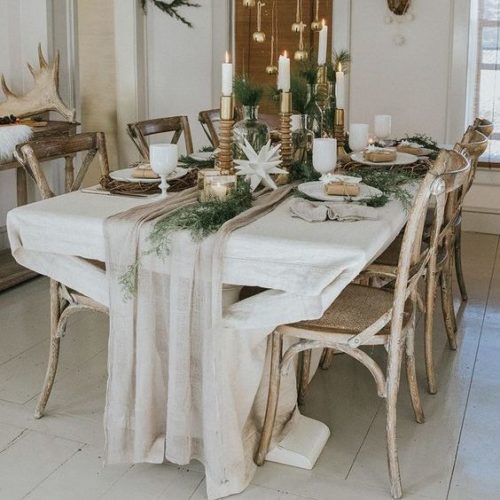 1. Linens or Tabletop
Depending on what material your Dining Table is you might want to opt for a Tablecloth either to protect your surface or to create a blank canvas. If you have a wood table I think you can opt out of linens as wood makes a beautiful base to start with. Feel free to have fun with patterns and colors with this! You can layer plaids, touches of metallic, different fabrics, and prints.

2. Greenery
Greenery is so important and adds so much life to the table. Start by using a large garland down the center or by layering several different branches as a centerpiece. You can easily find a seasonal garland at your local Michaels, Target, Lowes, and many others. Also feel free to add florals like poinsettias and roses for a pop of color and Pine cones for texture! Follow the link below to see some beautiful Garlands I selected.
Bright Red Berry and Pinecone Lighted Wreath
Green Pine & Eucalyptus Garland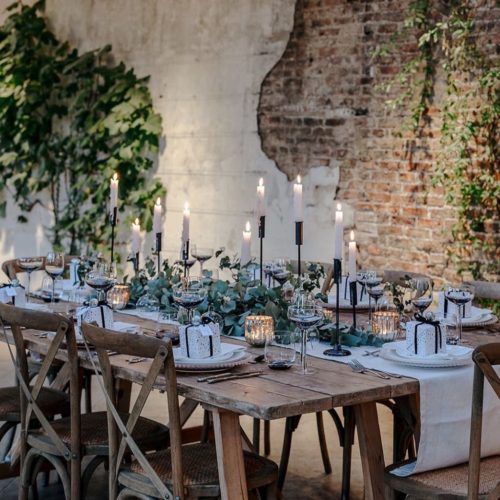 3. Candles
Moody lighting is key when it comes to these intimate moments with the people you love. You want to play with height and layering when it comes to the candles on your tabletop! Shorter candles should be placed randomly along the length and taller candle sticks in candle holders and candelabras' towards the center. Its best to opt for unscented candles so as to not overwhelm your guests.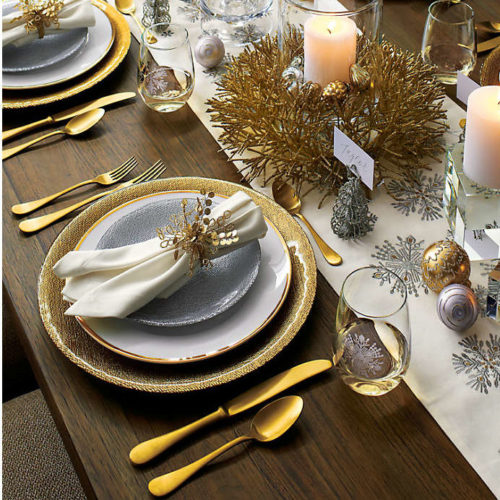 4. Cutlery
Its always nice to have separate more festive cutlery for your guests for special occasions. I personal love this gold cutlery as its very versatile and can be used for several different occasions! I also love vintage cutlery which can also be mixed and matched to add more interest.
Versailles Antique Gold Five Piece Cutlery Set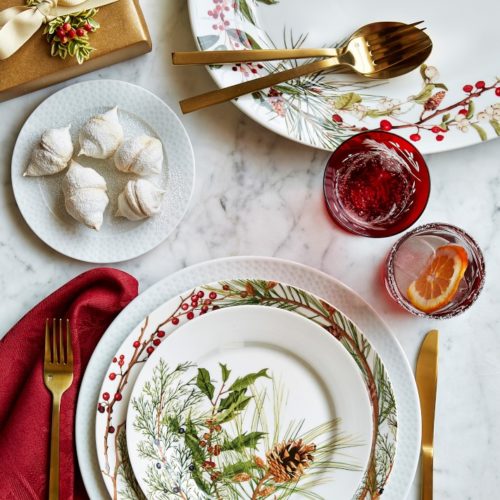 5. Dinnerware
There are so many beautiful sets of holiday China available with gorgeous hand painted Christmas themed designs and fun patterns. Like the linen this is an aspect of the dinner table you can have fun with layering. Its best to start with a pattern on the bottom or one with a border then follow with a solid color for the second and the third to have a center design. Find some beautiful sets I selected at the links below!
Johnson Brothers 'Twas the Night 20-Piece Dinnerware Set
Spode Christmas Tree Gold Foil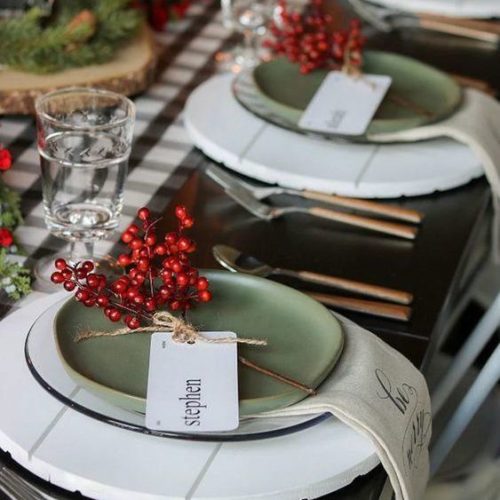 6. Place Cards
There are so many easy DIY name card options available to make on Pinterest for those of you who are crafty. It can be as easy as writing each name in cursive on a small piece of patterned paper, cutting a slit and feeding through a piece of fresh greenery. If you prefer something premade there are some beautiful cards, snowflake, and ornament settings at Crate and Barrel or online at amazon. If you want to go the extra mile feel free to add a small gift at each place setting for your guests!