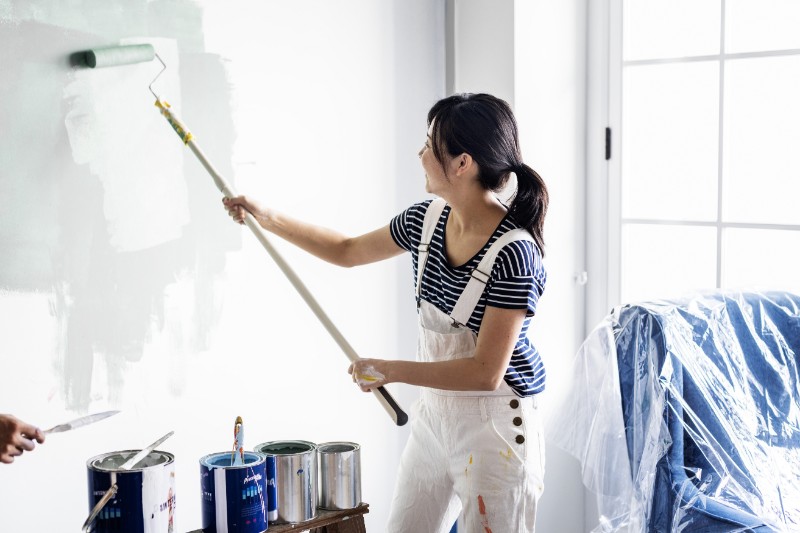 As a seller, your goal isn't just to sell a property quickly, you also want to sell it for the best possible price. But what if you don't have a big budget for major renovations?
Don't fret—we've compiled a list of budget-friendly home improvements that can add value to your home:
Repaint your rooms
Want to transform your house without breaking the bank? Repaint your rooms! A fresh coat of paint not only livens up a room, it also gives it an instant makeover—all for the price of a can of paint. Even better, repainting your home is a fairly easy DIY task that you can finish on a weekend. If you're looking for color inspirations, a great place to start is Pantone's colors of the year: Ultimate Gray and Illuminating Yellow.
Upgrade your kitchen appliances
If you don't have the budget for a full-blown kitchen remodel, consider replacing crucial appliances instead. More specifically, prioritize upgrading larger appliances such as your fridge, dishwasher, or cooking range as they tend to consume the most energy. Look for products that are ENERGY STAR-certified, as these are rigorously tested for energy efficiency. Even little tweaks like these can improve the value of homes for sale in Carmel, IN as they help future owners save on their power bills.
Install a water purifier
Tap water is perfectly safe to drink in the vast majority of the country (including Carmel), but many folks still buy bottled water. Indeed, Americans consume about 1500 plastic water bottles a second. That's why many sellers in Carmel are adding an affordable but much-appreciated upgrade to their homes: a water purifier. This simple device gives buyers added peace of mind when drinking water straight from the tap and can help a property stand out from other listings. There's a wide range of options to choose from, including units that purify and improve the water's taste to those that make the water more alkaline.
Add a ceiling fan
Pleasant weather is one of the perks of living in Indiana, but locals know that summers can get quite stuffy while winters can be very nippy. While HVAC systems can keep indoor temperatures comfortable, they do consume a lot of energy—in fact, heating and cooling account for the majority of a home's power consumption. Luckily, a fairly low-tech upgrade such as a ceiling fan can help keep your family comfortable without running up your electricity bill. In the summer, it can draw away warm air by pulling it towards the ceiling; in the winter, it pushes that warm air down instead.
Revamp your front door
Curb appeal is crucial to selling a house and your front door can help you make a great first impression. If you haven't updated your front entrance in a while, doing so before putting your house on the market is a great idea. You can choose a door with a more contemporary look then frame it with millwork to give it a more sophisticated look.
Need help staging your home? Rely on Carmel, IN real estate experts like the Albrecht Team to provide trusted advice. Contact us at 317.580.9955 or send an email to keith(at)keithshomes(dotted)com to learn more!